event music planner
Andrea Messina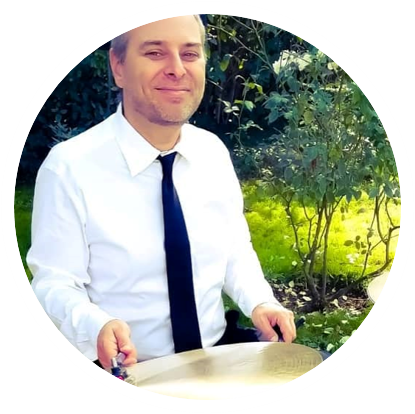 enjoy live music
Enjoy Live Music organizes live music for events and it is specialized in Italian and non-Italian weddings, private events, corporate dinners and gala dinners. Our ambition is to create the ideal live soundtrack for every occasion. Thanks to our twenty year experience, we take care of every single detail and plan each moment of your event.
Born after Sombras Live Music by the will of Andrea Messina, musician, drummer and co-founder of Sombras Live Music. With over twenty years of experience in events as a musician and also as an event music planner, Andrea has today developed a team composed by the best professional musicians in Italy. We are very close-knit, with a rich repertoire in various musical genres (jazz, swing, ballad, bossa nova, Italian and foreign pop, soul, blues, rock and roll, dance revival, up to the great hits of today). Because of this we can customize the music at any time during the event, following the preferences and indications of the customer but we also suggest the best choices. In this way, the musical setting is cured in every detail
We are also take care of foreign spouse's tastes: we are able to adapt the music to their favorite genres, and we can also play a more  international Italian evergreen repertoire.
WHY CHOOSE ENJOY LIVE MUSIC?
Because, as stated, we are able to customize the live music soundtrack of your event. Thanks to our experience, a correct selection of the best band that can meet your needs and our versatility. Our format is designed specifically for every event and tested to play the right music at the right moment. We listen to the client and understand exactly what they want both in terms of favorite musical genres and as regards the composition of the band, number of musicians (duo, trio, quartet, quintet), favorite instruments (double bass, electric bass, drums, piano, trumpet, saxophone, transverse flute, female and/or male voice).
In addition, we supply a "gold selection" of DJs, DJ & saxophone, piano bar or just single elements (for example only saxes with bases, classical or jazz guitarists). Our ensemble could be a duo or trio or instrumental jazz quartets or with male or female voices. Our music is suitable for religious or civil ceremonies (harp, classical guitar and violin, organ and soprano voice, trio or string quartet, classical guitar trio, soprano and violin voice, etc.).
Over the years, we have established great collaborations with the most prestigious caterings (to name a few: Apollinare Catering, Cherubini catering, California catering, International catering, Relais le Jardin, Natalizzi, Fiorelli, Colasanti) and with many event venues, such as Villa Aurelia, Antiche Scuderie Odescalchi, Borgo della Merluzza, Tenuta di Ripolo, Borgo di Tragliata, Casina Validier, Hotel de Russie, Castello della Crescenza, Tenuta di Polline, Borgo le Grazie, Villa Miani, Borgo della Cartiera Pontificia, Villa Cinardi, Tenuta Agrivillage. We also have a vast network of professional wedding planners.
WE WILL GIVE YOU ALL THE INFORMATION AND CLEAR ANY DOUBTS! IF YOU PREFER, WE CAN ALSO MEET TO GET TO KNOW EACH OTHER AND TO PRESENT OUR SERVICE MORE PROFESSIONALY.